So, I decided it's been way too long since I did a proper, decorated cake. I've been really lazy about it lately, I've been baking, but nothing fancy. I need to start putting the effort back in! Yeah, let's get motivated! *awkward silence*. That's enough of that.
with, I baked a To celebrate the new season of 'Doctor Who' on BBC 2, which frankly I was a little disappointedtardis cake! Well, I actually just baked a plane sponge cake and cut it up, glued it together with blue butter cream, and iced with writing icing to make a tardis-shaped thing. Still, I think it worked out pretty well.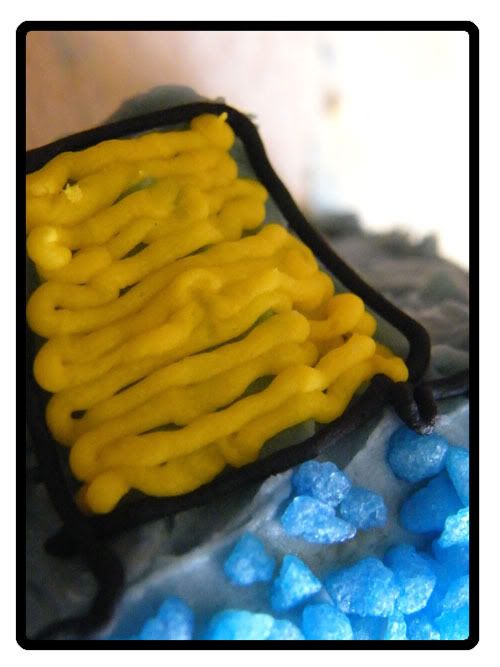 *Woosh*



It was a bit of a nightmare to stick together at first, the cake was really crumbly and kept falling apart when I tried to put the thick butter cream on, but then my mum had the genius idea of putting it in the microwave (the icing, that is, not the cake). That made it really easy so spread on, and it hardened after about ten minutes. Then I just did some simple decoration with writing icing, which I still need a bit of practice with, evident from my not-so-legible writing :P Ah well, it'll come eventually. After that I still felt like it needed something to 'finish it', so I whacked on some blue sprinkle thingies to complete the look.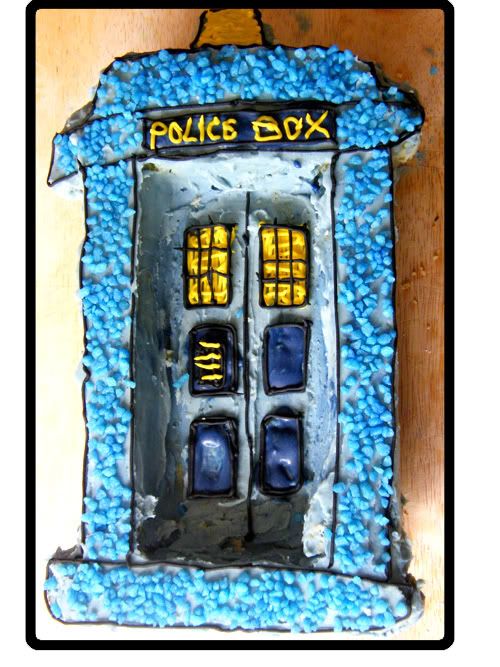 Enter The Doctor!



I haven't tasted this one yet, but I don't imagine it's anything amazing. I have a confession to make: I forgot to put the jam in the middle >_<>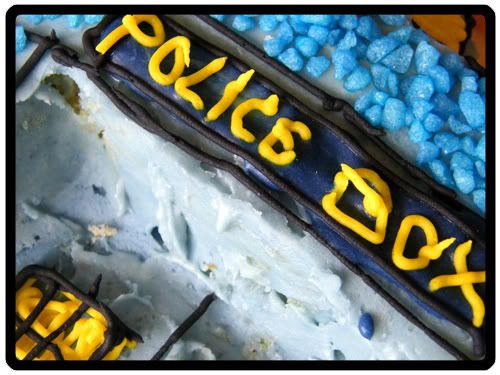 I think I need practice >_<



For the recipe it's just the good ol' jam and sponge that I've already got posted (look under 'cakes' tag) and a basic butter cream recipe, with a load of blue food-dye (yay E numbers) thrown in. Really easy to make, and pretty cool looking too.
Next time it's going to have to be a Dalek cake!